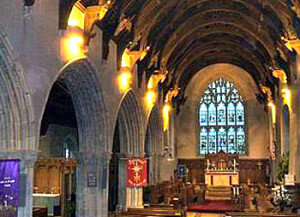 After a maniacal couple of days I felt I needed a moment of reflection, of respite to recapture my "real self". Perhaps this resulted from a comment made about one of my landscape paintings which I recently posted on Facebook: "Both your painting and poem are much to be admired. I appreciate both. Thanks. And, you're into Jazz too!" 
Llanidloes is at the heart of the ancient medieval kingdom of Arwystli in Mid Wales, the first town on the River Severn. Not so long ago my longstanding and good friend Jeff Matthews sent me an email with links to YouTubes of his band playing jazz in St Idloes Church, Llanidloes.
Jeff wrote:
"The year was 2009 and this was a band put together by our drummer at the time, Len Davies. He was given the gig and he was determined to fill it wall to wall with music and musicians. When asked, "do we really need a keyboard, guitar and a banjo?" He answered with  a resounding "Yes!" So the assembled band called The Southern Sounds Jazzmen turned up in a beautiful riverside setting in the pretty Mid Wales town of Llanidloes. We set up. Then, just before 'kick off', the  heavens opened. Torrential rain started to flood the open air stage. 
"A vicar appeared and beckoned us into his ancient church building which was close by. We quickly re-grouped and soggily started the concert. We thought that A Closer Walk With Thee was one of the more appropriate tunes we could play. This was our impromptu effort to cheer ourselves up and our small audience. Tuning not withstanding, we felt better for doing it."
So I want to share Just a Closer Walk With Thee, and my reflective mood with you all now, courtesy of Jeff. It's magical!
Good to get together with you at our recent Reunion, Jeff and Maria.
Please follow and like us: