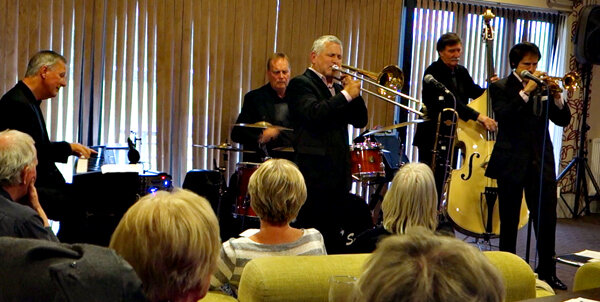 Slide by Slide's description of themselves as "A new and innovative band playing a wide variety of jazz in an entertaining and lively format" is spot on and their performance at
The Bedford Golf Club on 29th May received huge acclamation.
 So did they really "wing it"?
Well, not musically, but most certainly the brilliant Kevin Grenfell did with his off the cuff humour which made the show all the more entertaining. Mind you, he was kept in check by Richard Leach and the rest of the band – to a degree that is, because much of the time, along with the fans, they egged him on!

Slide by Slide features: Kevin Grenfell (trumpet), Richard Leach (trombone), John Fellows (bass), Graham Smith (drums) and Rod Kelly (piano). And thanks go to Tad Newton and The Bedford Golf Club for putting on the show.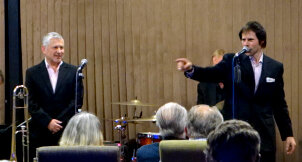 A magical evening! So what better way to celebrate it than with these two "expressive" YouTubes.
Please follow and like us: