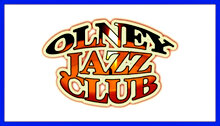 For sheer jazzmospherics get on down to Olney Jazz Club run by pianist and (I'm sure he won't mind) would be jazz songster and effervescent host, Alan Haughton. You will find the club at The Carlton House Club, High Street, Olney, MK46 4BB. If they wish, fans can make an evening of it and dine at the club.
 Without clubs such as Olney where would jazz be, where would fans go, and how would our great jazz musicians and jazz bands organise their nation wide tours? It's not just about the music. It's about Jazz Clubs with their on stage conviviality and repartee, and about the role they can play in bringing about a resurgence of jazz.  
Indeed, without Jazz Clubs what would become of jazz and phenomenal jazz musicians like Amy Roberts, Ian Bateman and Richard Exall who thrilled a packed house at Olney on Tuesday, 4th March this year.
Or of The Frog Island Jazz Band who will doubtless thrill a packed house at Olney, 8.30pm this coming Tuesday, 2nd April.
 With their repertoire of Classic New Orleans Jazz from the 1920′s and 30′s, The Frog Island Jazz Band bring a refreshing change to the post war Traditional Jazz of the 1950′s and 60′s. Their's is the music of Jelly Roll Morton, Johnny Dodds, Papa Celestin and King Oliver. I would go so far as to say that The Frog Island Band all but stand alone in taking us back to the wonderful music of that all but forgotten era. Founded in 1962 the band recently celebrated it's 50th Anniversary and to this day is performing as powerfully and sublimely as ever.
See also: Olney Jazz Club – Keeping Jazz Live and Alive
(Photos © Peter M Butler, Jazz&Jazz)

Summing it up: Jazz Clubs +Jazz Fans + Jazz Bands Equals



JAZZ+JAZZ+JAZZ
 = GREAT JAZZ WITH A GREAT FUTURE!
Please follow and like us: