And why not? After all, isn't it time London reclaimed "St. James Infirmary"?
"St. James Infirmary Blues" is based on an 18th century English folk song called "The Unfortunate Rake" … about a soldier cut down in his prime as a result of morally questionable behaviour. The title is derived from St. James Hospital in London, a religious foundation for the treatment of leprosy which was closed in 1532 when Henry VIII acquired the land to build St. James Palace." (Extract derived from Wikipedia).
How appropriate then that "New Orleans in London"  is a newly launched jazz venture aimed at "Sharing the sounds and spirit of New Orleans with the people of London".
What's more, it's an initiative led by a group of enthusiastic younger musicians rapidly gaining a following of young fans. At the centre of the initiative are "Dom Pipkin and the Ikos" along with the driving force of two talented young ladies, Sophie Smiles and Kate Pierodis.
Once every fortnight Dom and The Ikos meet up at The Alleycat Club in Denmark Street, London, for a "New Orleans Music Workshop and Jam Session" to which musicians, jammers, fans, touring artists and even promoters are welcome. The entry fee is just £4 but jammers don't pay! Besides this, the group have recently created and launched Mardi Gras Mambo, along with East London Street Parades, and gigs such as their Storyville events
Come to think of it, Dom's Alleycat New Orleans Workshops closely resemble an incredible jammers' evening I spent back in New Orleans at Treme's Candlelight Lounge.
And now to add to the drama, Jazz&Jazz.com along with The Peartree Monday Jazz Club are discussing with Dom Pipkin and Sophie Smiles extending "New Orleans in London" to "New Orleans Comes to Welwyn Garden City". Plans are under discussion for a Peartree Jazz Club Special featuring Dom Pipkin & The Ikos with a top Hertfordshire based Traditional Jazz Band, name to be announced shortly, possibly followed by an Alleycat style jam session.
But a word of warning to Traditional Jazz fans. Yes, Dom & The Ikos play great traditional jazz numbers but to attract youngsters back to jazz they also "mix it a bit" – yet always within New Orleans genres.
I was recently called a "radical" and even "subversive" but in the same breath praised for daring to be challenging in my efforts to reinvigorate Traditional Jazz. But as I stated in my "Analysing Jazz" Article published in the August issue of Just Jazz:
"Is any of this so revolutionary? Surely not. Has it not ever been so in all forms of music? Older stars giving way to younger stars, who, while staying basically true to the inherent traditions of their chosen music, "stretch it" a bit for their fan bases as older fans give way to younger fans.
"After all, hasn't jazz improvisation – the 'Expression of Freedom' – in itself always been stretching and mixing it? Louis Armstrong perfected the improvised jazz solo and before that Dixieland first featured collective improvisation within their musical arrangements."
Who knows – if we can succeed in building on "New Orleans in London" and on "New Orleans Comes to Welwyn Garden City" – where next? It could lead to a whole new dimension in a UK Jazz Revival! Remember the origins of "St. James Infirmary"!
 Jammers, Tréme Style:
(Photos © Peter M Butler, Jazz&Jazz)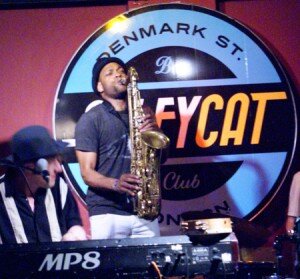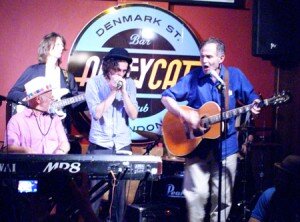 Please follow and like us: