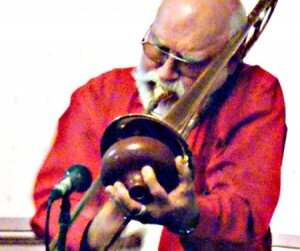 The Peartree Monday Jazz Club, Welwyn Garden City, was highly privileged to welcome Geoff Cole's Red Hot Five on Monday, 19th March.
Band leader Geoff Cole originally hails from Exeter and is as exhilarating a trombonist now as he was when he played with the Ken Colyer Jazzman Group between 1961 and 1971 along with his reeds man, Tony Pyke. He later became band leader of Georgia Jazz and toured with Brian White's Magna Jazz Band before forming The Red Hot Five.
The band's repertoire included a delightful variety of less frequently played favourites. Geoff's and Tony's skills of improvisation matched those of New Orleans jazz greats such as Kid Ory, Jelly Roll Morton and Fats Waller, and along with Colin Bray on piano, Johhny Baker on drums and Andy Lawrence on bass, they received repeated enthusiastic applause from the Peartree fans.
By popular demand doubtless Geoff Cole's Red Hot Five will be welcomed back at The Peartree.
For information about The Peartree Monday Jazz Club please contact promoter Brian Smith:
Tel: 01707 880569       Email: [email protected]
Peartree Monday Jazz Club Monthly Programme: April, May, June, 2012

(Photos © Peter M Butler, Jazz&Jazz)
Please follow and like us: