Christine's Stackyard Stompers hit The Peartree Monday Jazz Club big time on the 16th January.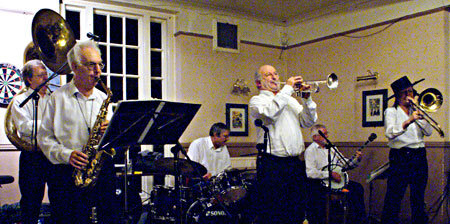 The Stackyards go no holds barred for Dixieland style jazz with a repertoire including King Oliver, Jelly Roll Morton, Johnny Dodds, Clarence Williams, Fletcher Henderson, Louis Armstrong and Duke Ellington. MC John Pickett (trumpet) entertainingly introduced each number with a potted history and Bandleader Christine on trombone kept the band in order with discreet yet rhythmic authority. She's great on vocals too.
But the highlight of the evening was clarinetist Ron Findon's sublime solo performance of George Gershwin's magnificent aria "Summertime" from Porgy and Bess. Ron has played with Joe Loss for the Queen at Buckingham Palace and with Harry Gold. A Licentiate of the Royal Academy of Music, he has also recorded Mozart's Clarinet Concerto. No wonder the Peartree fans gave Ron a standing ovation. Just as well he loves jazz!
Well done, Christine, for assembling such a fantastic and entertaining group of musicians. Also special thanks to Brian Smith (aka "Smiffy") for booking such great jazz bands for the Peartree Monday Jazz Club. As Smiffy said at the end of the evening, we are privileged that bands like the Stackyards are prepared to turn out for  jazz clubs such as The Peartree. May it go from strength to strength!
For The Peartree Monday Jazz Club monthly programme between now and June go to:  http://www.jazzandjazz.com/2011/12/peartree-monday-jazz-club-gigs-january-to-june-2012/ To see Peter's Jazz&Jazz portrait of Christine on Trombone go to: http://www.jazzandjazz.com/2012/01/acrylic-jazz-portrait-of-christine-on-trombone-2/
(Photos © Peter M Butler)
Please follow and like us: