Jazz Art & YouTubes & "Gripping Yarns"
Adrian Cox (clarinet), Joe Webb (piano), Gethin Jones (drums), Simon Read (double bass).
[Read more…]
My visit to Mandeville's Dew Drop Hall
back in 2010 was more than magical, 
it was golden

.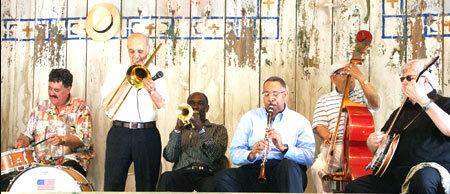 It was the inspiration for my jazz portraits posted over the years on Jazz&Jazz – nowadays somewhat superseded by my Jazz&Jazz YouTubes.
But more than that, it was my first opportunity to present to
Barry Martyn the fine art Giclée prints of a portrait I had
painted of him at The 100 Club in London, and of his son
Emile on drums, at "Jazz in the Barn" in Throwley, Kent, with
his "Fallen Heroes".
Barry's reaction? I will never forget it. He held up both portraits for the audience to see and declared "Peter has just given me these two remarkable portraits of myself and my son, Emile. Take a close look at them and you'll see Emile is already going grey!"
Down south from Edinburgh, the dynamic
Tenement Jazz Band are sure to liven up the
Walnut Tree's Ellington Room with their
old style New Orleans music.
[Read more…]
… I'm urged to recapture the interlude in my life when I delved into Art & Verse!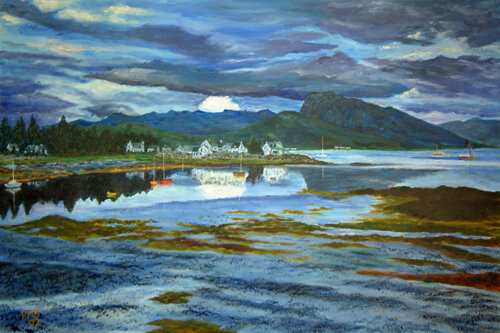 Midnight Light ©
[Read more…]
Live Jazz in the New Orleans tradition!
Sunday 9th February
1.00 – 4.00pm
A traditional New Orleans / Dixieland jazz band playing music from the 1920's.
[Read more…]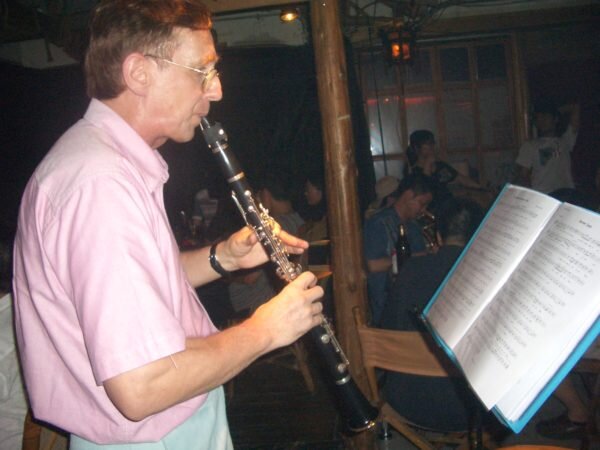 Douglas Mitchinson, "The foreign devil blowing a black stick!"
Douglas messaged me from China:

"We're in lockdown mode due to the Coronavirus, so it's a
great opportunity to get things done.
"Today I've scribbled a few words about me blowing the clarinet when I first arrived in China. There's not much jazz, but then again jazz as we know it is virtually never heard.
"Anyway, make of it what you will, I include four photos to accompany the script.
[Read more…]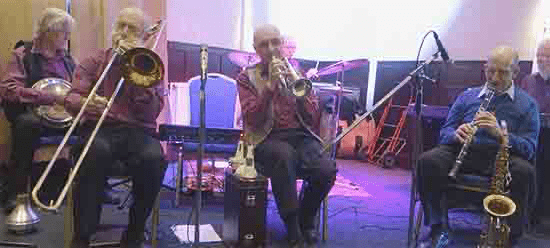 12 Noon Sunday 26th January
Sounds of the Crescent City!
[Read more…]
Saturday 25th January 2020 at 12 Noon
Always popular at their East Kent stomping grounds and beyond, Burt and his Pilgrims are sure to get the 2020 Shuffle programme off to a resounding start.
Peter M Butler
Editor & Proprietor Jazz&Jazz
(Photos & YouTubes © Peter M Butler, Jazz&Jazz)
Jazz&Jazz is grateful to Ramsgate Seaside Shuffle for their reciprocal support.
When Dennis Vick named his band Red River Stompers back in 1977 his wife suggested that as he was born in Fenny Stratford, the band should be renamed
The Fenny Stompers Jazz Band.
[Read more…]