With a waistcoat like that, just how could I resist accepting Tony Cunningham's commission to paint his portrait on trombone. Thank you for the opportunity Tony and for the wonderful session with Jazz Revisited at Lemsford Jazz Club.
Tony Cunningham Trombonist
Waistcoat a'sparkle
Trombone ablaze
A glint in his eyes
His jazz fans amazed.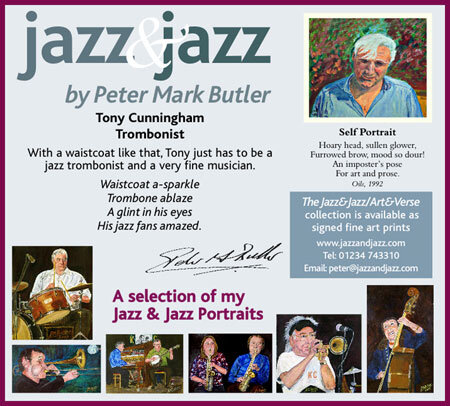 Sam Hall's "Jazz Revisited" at Lemsford Jazz Club, Hertfordshire.
Sam Hall (bjo); Dave Arnold (dms); John Bayne (bass sax); Dave Marchant (tpt);
Chris Rundle (bass); Tony Cunningham (tbn); Cliff Davy (pno)
Peter M Butler
Editor & Proprietor Jazz&Jazz
(Photos & YouTube © Peter M Butler, Jazz&Jazz)
Fine Art Giclée Prints of this portrait are available.
Simply email: [email protected]
to place your order and help support jazz.