I painted this acrylic jazz portrait of Bob Thomas, Lemsford's very own village "Satchmo", in support of a campaign to keep jazz live in "The Long Arm & Short Arm", one of the village's pubs where Bob's band, Bob Thomas & The Thomcats, played regularly along
with other bands.
But sadly it was to no avail and, as is so often the case these days, the pub ditched live jazz in favour of canned music and discos.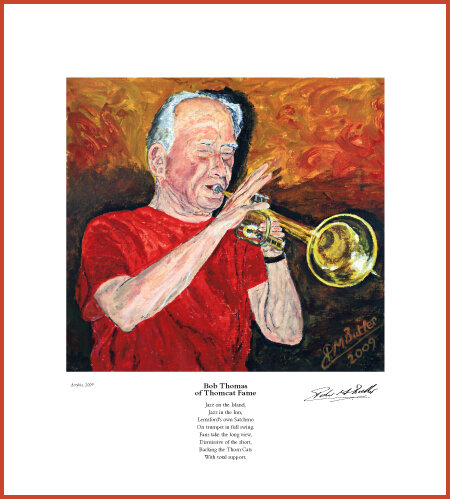 Fine Art Print of the Jazz Portrait of Bob Thomas of Thomcat Fame.
Bob Thomas of  Thomcat Fame
Jazz on the Island,
Jazz in the Inn,
Lemsford's own Satchmo
On trumpet in full swing.
Fans take the long view,
Dismissive of the short,
Backing the Thomcats
With total support.
Fine Art Giclée Prints of this portrait are available, with or without my descriptive poem. Simply email: [email protected] to place your order and help support jazz.
 Read more about Bob Thomas & The Thomcats and my interview Bob Thomas.
Peter M Butler
Editor & Proprietor Jazz&Jazz