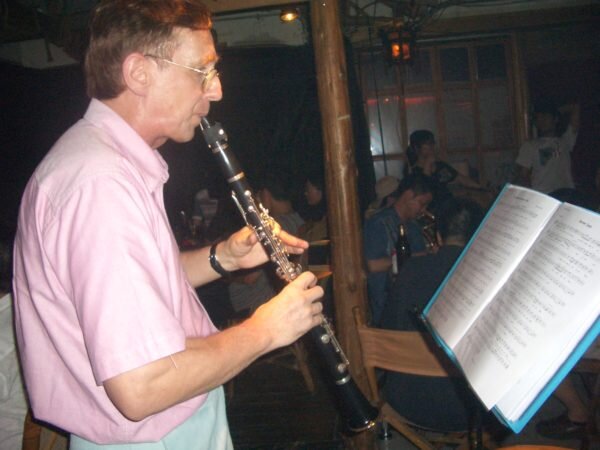 Douglas Mitchinson, "The foreign devil blowing a black stick!"
Douglas messaged me from China:

"We're in lockdown mode due to the Coronavirus, so it's a
great opportunity to get things done.
"Today I've scribbled a few words about me blowing the clarinet when I first arrived in China. There's not much jazz, but then again jazz as we know it is virtually never heard.
"Anyway, make of it what you will, I include four photos to accompany the script.
"Hope you are ok. We're ok as we've got face-masks but the weather has turned chilly with a bit of rain so no incentive to venture out.
"Keep up the good work."
Regards,
Douglas
Jim announced he'd got us a gig!
When I came to China many years ago to teach English at South China Normal University here in GuangZhou we lived on campus, and most nights I'd carry my clarinet (Black Stick in Chinese) and music to the 'performance' space under the administration building to have a blow.
That's where I met Jim, a Chinese teacher who tootled on the alto sax. I soon began to put together little duets for us. Nothing fancy, a few standards and Chinese tunes. We rehearsed and passers-by stopped to listen, obviously intrigued at the foreign devil blowing a black stick. After a couple of months Jim announced that he'd got us a gig on the next Saturday evening!
A gig? I wasn't that good, and neither was he. However, it was at the smaller of the two campus theatres and the audience would only be a couple of hundred retired teachers from the university, who Jim assured me were mostly deaf!
The Only Musicians on the Bill!
Anyway, come the Saturday and we walked to the theatre. It was heaving with both performers and retired teachers who'd brought their families along to enjoy the evening. There were dancers and singers galore, all university staff or students, but Jim and I were the only musicians on the bill.
Eventually on to the stage we were ushered. I don't know about Jim, but my knees were trembling. I looked into the sea of faces. My wife waved, and I weakly smiled in return. Jim blowing the first note brought me to my senses and we played the first number. A brief pause to turn the music and then the second. I've no idea what we played but the audience clapped and cheered. They were enthralled!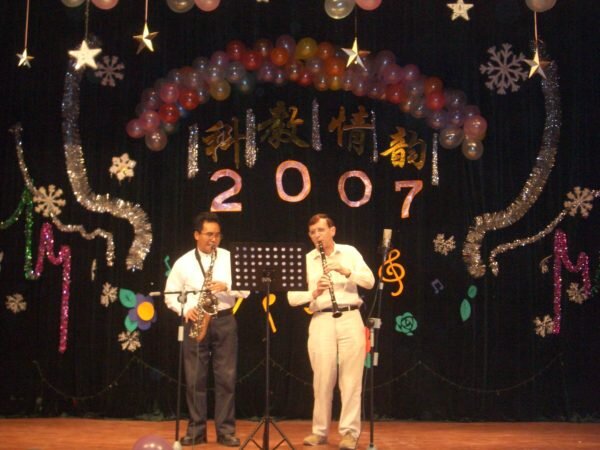 Bouquets of flowers were presented to us both as we were ushered off stage – but were snatched back for the next act! Wow! That was a baptism by fire!
I can't remember what we blew but we were enthusiastically applauded.
It was a year later when, with a few more gigs under our belts, a music teacher on the campus asked us to accompany him. He'd booked a gig blowing his Chinese flute for a company's lunch event. But he reckoned his solo performance wouldn't be loud enough! No sweat for us, except I was teaching that afternoon. We got a taxi to a very smart place and were shown into a hall where there were a hundred or so company employees digesting their lunch and waiting to be entertained. Again, I can't remember what we blew, most probably Chinese tunes, but we were enthusiastically applauded.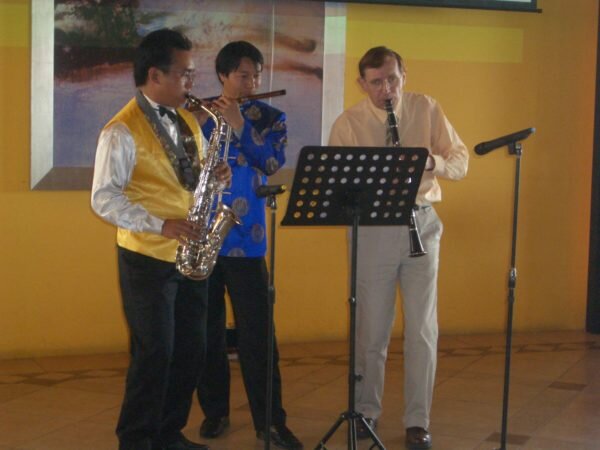 Our taxi returned us to the campus just in time for my class. So I breezed into the classroom with clarinet case in one hand and music in the another, and the lesson on a USB stick in my pocket. The sophomore English majors were intrigued – they'd never seen a clarinet up close – a new word to their vocabulary. Could I play it? Of course, I could! So they were regaled with a few bars of "Autumn Leaves" which elicited applause. Could Jim and I play at their end of term party? Another gig was soon under our belt!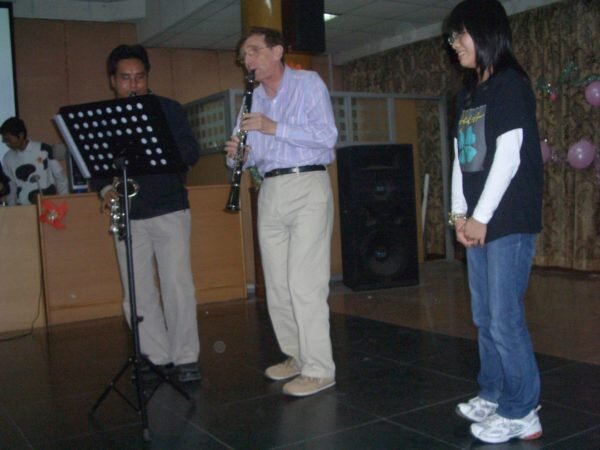 Between the retired teachers and the company gig, I started to blow once a week at a small bar, owned by a lovely chap who went by the name Lugo. It was just across the road from SCNU on the JiNan University campus. A dozen or so customers at most who were treated to the likes of Bill Baily, Basin Street, Copenhagen, Royal Garden Blues, Wolverine Blues etc. I've no idea what they thought of Dixieland Jazz, but I reckoned they'd come to a university to get an education and this was part of it. One chap was so intrigued with my music that he whipped it off the stand mid-tune to show to his drinking buddies. That's when I learned to improvise! After it had been passed around it was placed back on the stand for me to continue. Unfortunately it was upside down!
Another evening at Lugo's, I decided to play a popular Chinese song called Tong Yi Shou Ge.
After the opening four bars I was discombobulated when the customers and even Lugo started to sing along. Encores were requested! First I played it straight but the second and third times I jazzed it up! Rapturous applause ensued and Lugo insisted I played this and more Chinese tunes, "jazzed up", every week.
I'm sure that's enough of me reminiscing about blowing the Black Stick in China.
Douglas Mitchinson
Thank you, Douglas, for sharing such fascinating and inspirational anecdotes with Jazz&Jazz and our associated Social Media links. Our thoughts are firmly with you and your wife and I look forward to getting together with you when you are next in the UK.
Peter M Butler
Editor & Jazz&Jazz