An early Jazz&Jazz YouTube filmed back in 2013 at Brian Smith's Peartree Jazz Club. Featuring Brian Carrick (clt, sax) and his Algiers Stompers,
Peter Wright (tpt), Chas Hudson (tmb),
Bob Rowbotham (bjo), Trefor Williams (guesting on bass),
Andrew Hall (dms), Gabrielle Gad (pno).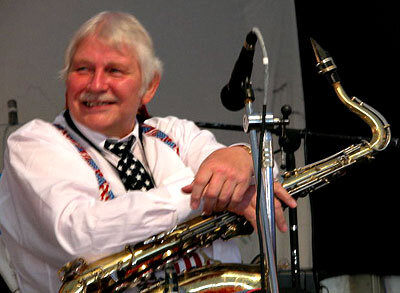 So sad that Trefor is no longer with us. I owe him so much for all his support when I was getting back into jazz after a long absence. God bless you Trefor! Brian Carrick too was very supportive and only too willing to allow me to film. And not forgetting "Smiffy", Maître Di at The Peartree Jazz Club at the time and now of Lemsford Jazz Club, for his unstinting support.
So over to The Algiers Stompers!
Peter M Butler
Editor Jazz&Jazz
(Photos & YouTube © Peter M Butler, Jazz&Jazz)
More Jazz&Jazz YouTubes to follow!
Please follow and like us: