Just £1 a month could work wonders! Please read on …

Recently 'The New Orleans Jazz Museum' asked me to announce their Gala Fundraiser on Jazz&Jazz.com
Director Greg Lambousy responded with this wonderful accolade: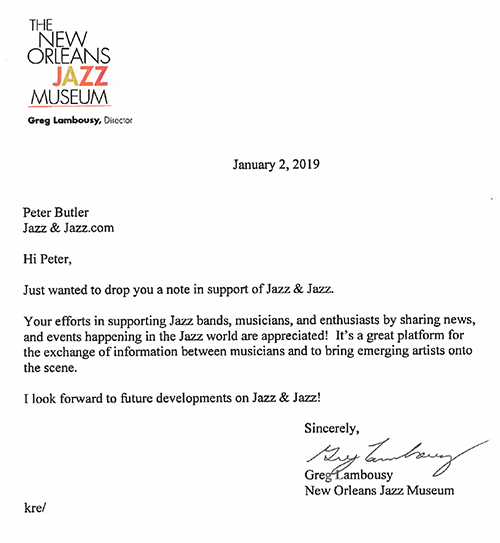 Jazz&Jazz Activities to Date
The Jazz&Jazz YouTube Site includes over 1,000 Jazz&Jazz YouTubes with over 1,110 subscribers.
The 1,380 Facebook Jazzers Group members keep me in touch with jazz musicians,
bands and fans worldwide. Then there are my Twitter and Linkedin pages devoted to jazz.
Now, more than ever, essential funds are needed to finance Jazz&Jazz.com's
rapidly expanding activities and jazz promotions.
Announcing and covering events, preparing features, monitoring submissions, communicating with
Jazzers Group members, plus photography and filming for Jazz&Jazz YouTubes and travel
are stretching resources to the limit.
Additional contributions are needed NOW if Jazz&jazz is to continue flying the flag for jazz.
Jazz Fans and Followers of Jazz&Jazz…
Just a £1 a month or a single contribution of £10 a year from each of you would make the world of difference. Please Donate Here or via the Donate button in the right hand column of each Jazz&Jazz page. It would be hugely appreciated!
This feature is also shared on my Social Media links where, given the growing number of followers, it could help boost finances to cover the costs of the ongoing Jazz&Jazz campaign for jazz.
"A Great Platform for the Exchange of Information!"
I want to emphasise one sentence in Greg Lambousy's letter:
"It (Jazz&Jazz) is a great platform for the exchange of information between musicians and to bring emerging artists onto the scene."
So Speak Your Mind!
Greg echoes my reasons for launching Jazz&Jazz and for including Speak Your Mind at the foot of each post. So please use "Speak Your Mind" here on Jazz&Jazz to air your views and exchange observations rather than, or perhaps as well as, expressing your opinions on Social Media Sites. And perhaps spare a dime or two?
Why not begin here? Simply post your views on this appeal directly below.