"From Basin Street to Harlem"
8.00pm Tuesday 6th November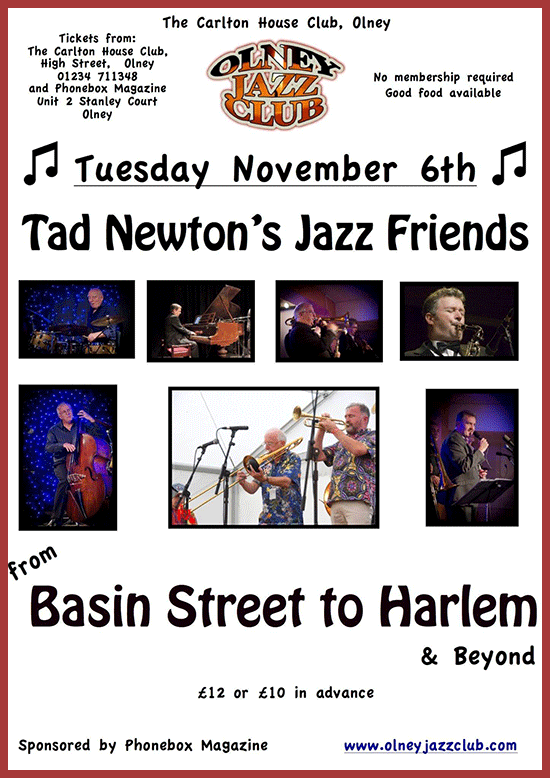 Voted 2nd most popular band at FestJazz, Châteauneuf-du-Faou,
Brittany, in August 2018
Great to welcome The Jazz Friends back to Olney on Tuesday, 6th November! Specialising in lively, swinging, straight ahead jazz, the band plays an eclectic mixture of vocals, jazz standards, novelties, blues, as well as solos.
TNJF has appeared at top venues and jazz festivals throughout the UK and Europe.
TNJF Plaudits
"I really enjoyed working with the band, which is uniformly excellent" Simon Spillett
"These guys really swing" Greg Abate
"Wow!! What a band" Roy Williams
" Well played music covering accepted traditional titles into some more swing stuff, all were very fine musicians" [Just Jazz Magazine, reviewing Upton Jazz Festival]
"The best performance in my eyes was Tad Newton's Jazzfriends at "The Lord Clifden"
[Birmingham Jazz Festival Review]
The Band
Tad Newton (trombone/vocals), Gary Wood (trumpet/vocals), Richard Exall (sax/clarinet), Alan Haughton (piano), Tomas Pedersen (bass) and Ronnie Fenn (drums).
Tickets £12 or £10 in advance from Carlton House Club, High St, Olney, MK46 4BB
Tel 01234 711348 to reserve tickets and book meals or from
Phonebox magazine, Stanley Court, Olney
Look forward to seeing you there.
Cheers,
Alan
(Alan Haughton – Organiser)
Magic Moments at Fest Jazz:
Please follow and like us: