Malo Mazurié first starred at Fest Jazz in 2005 when just twelve years old.
Fans have welcomed him back each year – this year with his latest Quartet.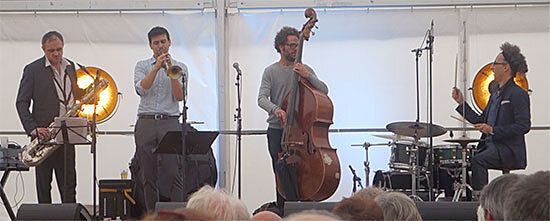 Malo Mazurie at Châteauneuf-du-Faou back in 2016:
Recently Malo (second left in the YouTube below) has expanded his repertoire with variations
on jazz as in the following Jazz&Jazz YouTube which I filmed at Fest Jazz this year.
For sure the Quartet also played standard numbers better known to us all, but my role as a
Fest Jazz Media Man meant I had to move on from Scene to Scene to be sure of filming
as many of the musicians and bands as time permitted. And the fans applauded loudly!
Peter M Butler
Editor Jazz&Jazz
(Photos & YouTubes © Peter M Butler, Jazz&Jazz)
Please follow and like us: