Adrian, Gethin, Joe and Simon top the bill this month (January, 2016) in the
Jazz&Jazz Campaign to feature great young jazz bands and musicians.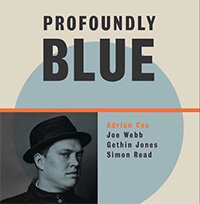 "Profoundly Blue" is Adrian's tribute to the music of Louisiana born clarinettist Edmond Hall. It is filling clubs and venues around the country and attracting fans of all ages. It defies the aggravating maxim that jazz is past its sell by date. Far from it, younger bands are attracting back to jazz a new generation of young fans.
OK! So fans shown in the Jazz&Jazz YouTubes featured below are more on the senior side, but that's the magic of Adrian Cox. He is tops with fans old and young, and through musicians like him, older fans are coming to realise that there is "Life after Trad" and applaud the emerging generation of musicians and groups – and their fans. They (the ageing fans) may not find it quite so easy to get to the city and town centres frequented by the younger bands and fans, but the more they show their appreciation for their music, the more these bands might be inclined to visit the plethora of clubs out in the sticks –  and even bring some of their younger fans along with them.
But enough of my rant. Let's get down to business! Here are the YouTubes I filmed at The Bedford Golf Club and The Walnut Tree, courtesy of Tad Newton, who is always prepared to feature younger bands if he can be sure fans will support them.
More About Adrian
I first met Adrian back around 2008/9 when he played along with "the greats" at The Hemsby Autumn Jazz Parade. Back then I was into painting acrylic portraits and at The Walnut Tree I asked him if he remembered a particular "double" portrait of him – on saxophone and clarinet in juxtaposition on the Hemsby stage. He did! So here it is again – in the mood on sax and sophisicated on clarinet!
Back then I wrote poems for my portraits. Adrians's read:
Double Take
Teasing the high notes, caressing the low,
Fingers aflow, instruments aglow,
As Adrian beguiles with hypnotic solos.
Sax and clarinet in a virtual duet.

Peter M Butler
Editor & Proprietor Jazz&Jazz
(Photos & YouTubes © Peter M Butler, Jazz&Jazz)
The "Profoundly Blue" Jazz&Jazz YouTubes:
Filmed at The Walnut Tree, Blisworth:
Please use the Donate Button below to help Jazz&Jazz continue to
Support Live Jazz!
Please follow and like us: