Brian Smith, aka "Smiffy" was born in The Long Arm and Short Arm pub in Lemsford Village just outside Welwyn Garden City, long enough ago to have followed some of the great jazz bands of the 1950s and 60s. Those were the days when Hatfield, Potters Bar, Enfield and Welwyn Garden City were hot beds of jazz.
Smiffy has vivid memories of helping boost popular entertainment at the erstwhile Cherry Tree in Welwyn Garden City. "I wanted a big name comedian who the local press would headline because I thought that would bring out the fans. Through contacts and good fortune I was able to book Bernard Manning at a concessionary rate. So then I didn't need to advertise the event. The local press did that for me and the Cherry Tree was packed full to bursting that night. I even made a small profit."
But jazz was and still is Smiffy's first love, so it was second nature for him to take up promoting jazz locally, beginning by supporting bands regularly featuring back at The Long Arm and Short Arm. At his last venue in Welwyn Garden City, The Peartree, membership of his Peartree Jazz Club was beginning to flourish when it fell yet another victim of "publican's whim".
But Smiffy isn't one of my Jazz Heroes without reason and now he is back promoting jazz again, where it all began for him in Lemsford, with his Lemsford Jazz Club in the village Hall. A stiff challenge perhaps, and these days a good many jazz club promoters will vouch for that.
But for Smiffy the only way is up and the club is steadily attracting fans old and new and
back to Lemsford Village.
In evidence this image has recently been posted on his Lemsford Jazz Club Facebook Page: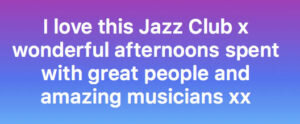 The sign appeared only a few days after The Happy Jazz Men gigged at Lemsford on Sunday, 11th June. It was quite a show and featured a spontaneous Umbrella Parade. The Happy Jazzmen might have reservations about me calling them "old timers" but if I say they pack a formidable punch perhaps they will forgive me. I first saw multi-talented Derek Scofield (clarinet, saxophones, penny whistle, vocals – the works including tap dancing!) at a Barry Palser anniversary event around 2008 and he was no spring chicken then. Just watch his performances in the following YouTubes.
The Jazz&Jazz Happy Jazz Men Lemsford YouTubes
To be sure this was a great fun session, so long live Smiffy and Lemsford Jazz Club!
Peter M Butler
Editor & Proprietor Jazz&Jazz
(Photos & YouTubes © Peter M Butler, Jazz&Jazz)
See also the earlier Jazz&Jazz feature "Maggie"
Please follow and like us: