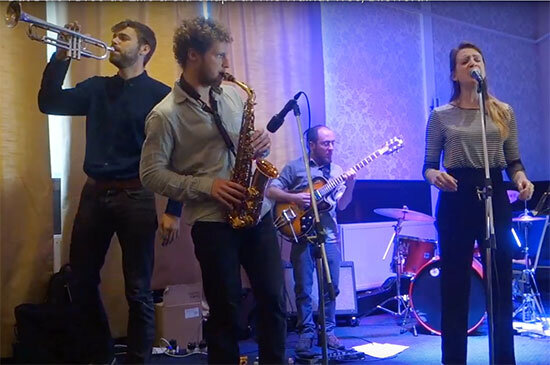 During their April, 2017, UK Tour, Old Chaps Jazz Band from Lille, France, starred at
Tad Newton's Walnut Tree Jazz Club, Blisworth, Northants, where I was privileged to film several numbers for YouTubes.
Dréo's rendition of Oscar Brown Jr's "Dat Dere" was immensely compelling, even spellbinding!
One of those rare occasions of being in the right place at the right time to
capture something very special.
Accompanying Dréo are Louis Thomas (Trumpet),
Romain Dsrx (Sax), Vince Evrard (Guitar), Benoît Luchier (Bass),
Nicolas Wroblewski (Drums).
"Dat Dere" is a jazz song written by Bobby Timmons and first recorded in 1960.
Lyrics were written by Oscar Brown, Jr. for a 1960 recording.
Peter M Butler
Editor & Proprietor Jazz&Jazz
(Old Chaps Photo & YouTube © Peter M Butler, Jazz&Jazz)
See also
Jazz&Jazz Presents Old Chaps at Blisworth: "After You've Gone"
Please follow and like us: