This may seem a diversion from Jazz but it is related. On my Facebook Page "Peter Mark Butler (Jazz and Jazz)" I launched a new series called "Gripping Yarns" which quickly proved popular amongst my Facebook followers, most of whom are jazz fans. I had planned to launch a new site to feature my "Gripping Yarns". But why do that when some are related to jazz and I have so many jazz followers who love a good story?
So here goes with the first "Gripping Yarn". The connection with Jazz? The location is my happy teenage home in Beltinge, Kent, a village just outside Herne Bay where I discovered jazz just a couple of years later. The photo is the profile picture I am using on Facebook. It has elicited considerable interest: Peter Mark Butler (Jazz and Jazz).
GRIPPING YARNS!
A Series of Short Stories about Grip the Rook
Part 1: Grip and Schuby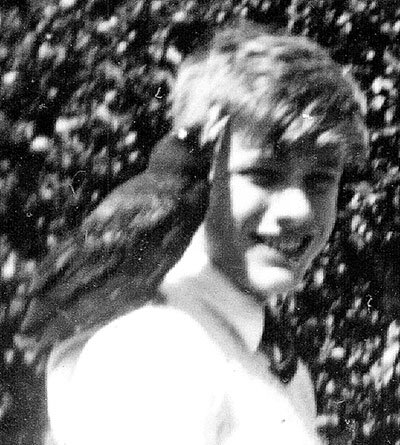 This photo was taken way back in the 1950s when I was just 14/15 years old and my loyalist companion was my pet rook, Grip, named after the manner in which he gripped tight to my shoulder and the Raven in Charles Dickens' novel, "Barnaby Rudge".'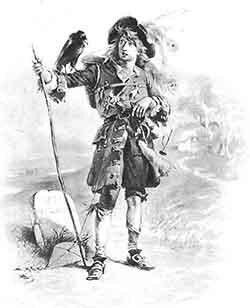 I received quite a response when I posted the photo of Grip on my shoulder as my Facebook profile picture. So much so that I promised to reveal all about Grip's gripping adventures. We couldn't have been closer buddies!
I lived with my parents in Beltinge, on the clifftops east of Herne Bay, Kent, in those days. There were numerous rookeries around the village. Cycling home from school one day I found Grip by the roadside at the junction of Beltinge Road and Reculver Road. He was not yet fully fledged and there was no way I could return him to his lofty rookery. So I picked him up and balanced him on my shoulder where he gripped tight as I cycled the rest of the way home.
Grip and Schuby
Soon the adventures began. Grip quickly took to his new surroundings, even sidling up to our cat Schuby and tweaking his tail hung over the edge of his favourite chair. Yet it didn't take long for them to develop a mutual respect for each other. By the way, Schuby got his name for walking my father's piano keyboard – a touch of jazz!
Then came the main event! Another cat adventure Grip had later on. He roosted at night in a row of fir trees just outside my bedroom window. In fact we used to caw to each other to lull ourselves to sleep. One night there was a terrible kerfuffle – harsh cawing and fierce hissing. Grip was under attack!
I hurried into the garden in my pyjamas but there was no sign of the combatants. Then the spitting and cawing started again from the top of the garden. I hurtled to Grip's defence – but there was no need! A big mangy cat raced past me with a bloodied face – never to return. And there was Grip nonchalantly preening himself perched on the bank that separated the lawn from the veggie garden.
Our cat Schuby was a grateful beneficiary of this formidable spat as the stray cat had been a troublesome interloper for some time!
To be continued ……… 
Peter M Butler
Editor & Proprietor Jazz&Jazz
Please follow and like us: