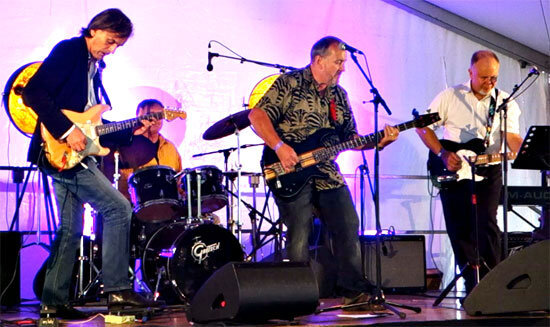 Band Leader Bryan admits his band, "The Usual Suspects", are into Blues rather than Jazz!
So what? Fest Jazz is somewhat eclectic with its music and that helps gets the youngsters involved in jazz.
The Usual Suspects are all about playing the music they love. "The tightest rhythm section this side of Paris and two of the best guitarists you'll find anywhere, playing music that they love, The Usual Suspects are known for playing gritty, dirty blues and funk guaranteed to get you moving."
Based in Finistere, Brittany, two highly regarded French musicians Gérard Macé and Philippe Brunel joined forces with veterans of the British music scene, Bryan Ylon and Richard Sattin to form the dynamic quartet.
Following their stunning debut at Fest Jazz in 2014, they perform a set of blues classics by greats such as Freddie King, the Beatles, BB King, Jimi Hendrix, Tom Petty, Stevie Wonder and many more. Their superb musicianship never gets in the way of a good tune and having a good time, and with years of experience between them, the Usual Suspects "like to rock!" (http://www.usualsuspects.fr)
"Mon Hôte" on Bass?
But why "Mon Hôte" on Bass? A very good reason! Ginny and I stayed with Brian and his wife Jilly over the festival weekend in the most comfortable riverside haven in Brittany you could imagine. Where is it? For now that's our secret because we aim to stay with Brian and Jilly for Fest Jazz, Châteauneuf-du-faou, again next year!
Usual Suspect YouTubes
Peter M Butler
Editor & Proprietor Jazz&Jazz
(Photos & YouTubes © Peter M Butler, Jazz&Jazz)
Please follow and like us: