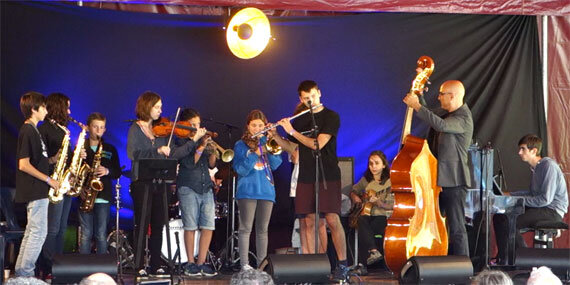 A key event at Fest Jazz 2016 was Joan Chamorro's enlightening masterclass on how to teach jazz to young people. It was a unique opportunity for fans to meet and question this extraordinarily gifted man who is having such amazing success with his very personal and intuitive methods of teaching the music.
Joan has become a good friend and is very supportive of Jazz&Jazz. After the Masterclass I seized the opportunity to ask him how he can tell when a youngster has what it takes to become a star. His reply demonstrated his modesty and sincerity. All of his students are equally important to him. They themselves have to have the desire to become good musicians. Then, if he recognises they have what it takes, he will encourage them to go further and achieve their full potential. But no way is it his intention to become their agent. Thanks go to my namesake, Peter Butler, a key member of the Fest Jazz team, for translating!
Sant Andreu – an Independent Project
The Sant Andreu Jazz Band is Joan's very own project, has no connection with municipal schools and receives no grants or public funding. As both their teacher and mentor, he organises classes and rehearsals on his own premises for his potential stars and if they decide for themselves they want to take up careers in music he will set them on the right paths.
With his unique coaching methods, Joan cannot help but make stars, whilst at the same time exposing all of his Sant Andreu students to the wonders of music and in particular jazz.
Without question Joan is one of my Jazz Heroes and close to, if not top of my list. He deserves our support.
Fun, Exhilaration and Interaction
I filmed the following numbers during the band's Fest Jazz Masterclass performances. They demonstrate the youngsters' fun, exhilaration and interaction with each other and love for the music. Following that are YouTubes taken backstage during one of the band's sessions in the main marquee. Why backstage? One, because there was no room for a clear view filming front of stage due to the packed audience. Two, because it enabled me to capture the interaction of the youngsters between themselves and with Joan – and even some of their hushed backstage banter.
Filming Backstage in The Grand Marquee:
That's all for now Jazz Fans! In a later post I will feature YouTubes of the Fest Jazz 2016 Grand Finalé featuring The Andrea Motis/Joan Chamorro Quintet and The Sant Andreu Jazz Band in full force.
Peter M Butler
Editor & Proprietor Jazz&Jazz
(Photos & YouTubes © Peter M Butler, Jazz&Jazz)
Please follow and like us: