When it comes to Christmas and New Year jazz gigs I would love to have powers of omnipresence to be at as many clubs as possible and especially those with which I have special connections. Ramsgate Seaside Shuffle is one of these clubs due to my involvement with the Organising Committee since its launch in 2011. 
Regretfully I couldn't be there this year for their Sunday, 27th December Xmas Special – especially as Martin Bennett's Old Green River Band journeyed all the way south from their adventures in flooded Cumbria for this very special Seaside Shuffle Christmas and New Year Celebration.
Jazz&Jazz Special Operatives
But I have my spies, or should I say my Jazz Operatives, who have very special connections to the Ramsgate Seaside Shuffle Organising Committee. And they reported back to me with all the information I needed, including photos and even movies for YouTubes taken on their iPhones. Then today I spoke to Chris, Chairperson of the Shuffle Committee, who was effusive about their wonderful session and excellent turnout for Martin and his Green River Crew.
Seaside Shuffle Club Collection for Flood Victims
Not only that but Chris told me about a very special collection of £125 made on the night for flood victims in the north. Martin and his band only just escaped near disaster in the Cumbrian floods when their band wagon was all but swept away with all on board plus their musical instruments. He declared "The Band Bus is now referred to as The Sub, having had its front number plate destroyed by the deep flowing waters of the flooded South Lakes."
So who better to ask where to send the collection than Martin, who suggested members of a Jazz Club in Cumbria who had themselves been victims of the floods.
And now to my Special Operatives' YouTubes
Peter M Butler
Editor & Proprietor Jazz&Jazz
(Photos & YouTubes by Helen and Andy © Peter M Butler, Jazz&Jazz)
PS: Just one more photo of my old school chum Roger and his daughter Helen taken by Andy at the gig. Roger and I first got into jazz back in our teens and returned to the fold in 2008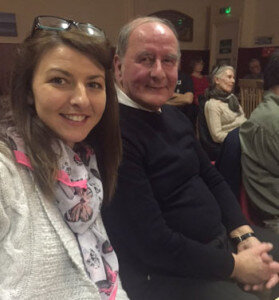 Please follow and like us: