Following Amy's recent announcement about their chosen future in jazz, Tad Newton was delighted to feature the Amy Roberts/Richard Exall Quintet at The Walnut Tree Jazz Club in Blisworth, Northants, Sunday lunchtime, 7th December.
Richard was especially pleased to welcome fans who left home at 5.30am to travel to the gig – including a group of Seaside Shuffle Jazz Club fans from Ramsgate in Kent – applauding them for going to such lengths in supporting live jazz.
So thank you Amy and Richard for a great session. And thank you Tad for live jazz in Northants and Bedfordshire at the Walnut Tree in Blisworth, The Castle in Wellingborough and at Bedford Golf Club, and for featuring great bands with young jazz musicians such as the RichardExall/Amy Roberts Quintet. With teamwork like this, live jazz has a great future.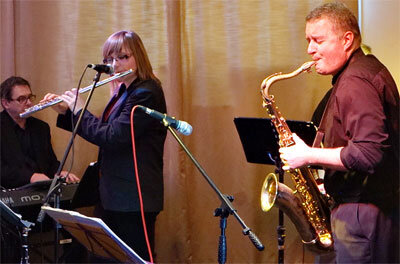 Here is a YouTube filmed at The Walnut Tree session of just one of the numbers from the Quintet's very latest CD "WHY NOT?". As Amy explains, "Hushabye Mountain" is a ballad by Robert and Richard Sherman from Chitty Chitty Bang Bang. Amy is so mellow on flute and Richard stars as Dick Van Dyke.
 Photos & YouTubes © Peter M Butler
Please follow and like us: