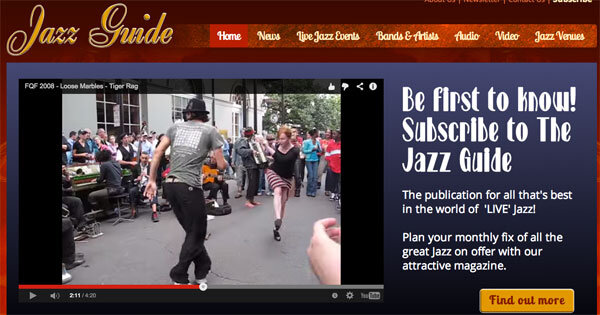 Want to know what's on in jazz? Then this site is not for you – you need The Jazz Guide,
now in it's 42nd year of promoting jazz events throughout the UK. Yet there are issues
which need confronting. 
Fred Burnett recently mentioned them on Jazz North West:
"Producing the Jazz Guide is an expensive job and Terry and Sarah have seen for themselves at various jazz clubs that people have left copies lying about at the end of the night, so no surprise that free copies may not be so freely available in future. To ensure that you continue to receive a copy that keeps you abreast of What's On in the whole of the UK, you need to subscribe."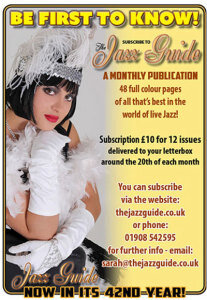 Subscribe NOW!
"Simply go to the Jazz Guide online and click on "Buy Now", or there's an option to do it the old way by post. It's only  £5 for 6 months, or £10 for 12 months, delivered to your door."
Terry says, "We are also trying to widen the scope of the publication, by inviting other sections of the genre into the fold". Jazz&Jazz shares Terry's aims in this. It's crucial for the future of jazz, especially amongst the younger generations.
Jazz Guide Newsletter
Terry has also introduced a Jazz Guide Newsletter which you can obtain via his web site on a regular basis by simply clicking on the "Contact Us" button and asking to be put on the newsletter mailing list.
Just recently the Newsletter featured a French Band well worth looking at: Hippocampus Jass Gang – "Who says OKOM is dying? No pensioners here folks!"
Norman Gibson commented: "We all love our traditional and classical New Orleans jazz, but this is a good example of what the 25/30 year old young people are craving for. These new young bands are playing some really good variations on the 'old stuff', and we promoters should relent and see if we can embrace it ! Trevor Stent suggested I look at Hippocampus Jass Gang and I have to say I like them. The dancers on this clip seem to be doing a form of retro swing line dance, but it can be seen that they are having a whale of a time with it ! Peter Butler at JazzandJazz is in agreement with the young band movement and is featuring many of the UK ones."
But the Jazz Guide has been longest in the business of promoting jazz, so lets welcome and join forces with Terry's aims, subscribe to the Guide and sign up for his Newsletter.
Please follow and like us: