Welwyn Garden City, Hatfield and Potters Bar, were once tops for sensational jazz in Hertfordshire. Then came the demise and jazz fell out of favour with the onslaught of rock, pop and, dare I say it, rap!
But for a full decade Bob Thomas kept jazz alive in the small retreat of Lemsford Vlllage, no more than a hamlet just west of Welwyn Garden City, with guest bands and his very own Thomcats. Alive that is until Mcmullens switched landlords at "The Long Arm Short Arm" Public House.
Jazz at The Peartree – The Finale
It was then that Brian Smith, aka "Smiffy" took up the cudgel. At first he got jazz going again in Welwyn Garden City, moving from one pub to another and finishing at The Peartree, with The Peartree Jazz Club. He staged some great bands there and for some three years the club was well supported.
Then circumstances changed. But Smiffy didn't give up.
New Beginnings – Lemsford Village Jazz Club
To the contrary, he decided to bring jazz back to Lemsford Village. And why not because Brian was born in "The Long Arm and The Short Arm" – it's former full name. But this time his objective was jazz in Lemsford Village Hall.
The first gig was on Sunday, 24th August, with The Frog Island Jazz Band. It attracted a good turn out of fans and was a hugely promising success.
Next on the bill is Dave Rance's Rockin' Chair Band on Sunday, 21st July from 1.00pm till 4.00pm. Starring with him will the remarkable John "The Professor" Percival, famed for his Singing Saw.
Support "Smiffy", Support Lemsford Village Jazz Club
So a special message to jazz fans, why not get along to The Lemsford Village Jazz Club on Sunday, 21st September and help revive jazz in Hertfordshire by supporting Brian Smith. Because in my book "Smiffy", is truly a Jazz Hero.
https://www.facebook.com/lemsfordjazz
Scroll down for the YouTube of The Frogs at Lemsford Village Jazz Club.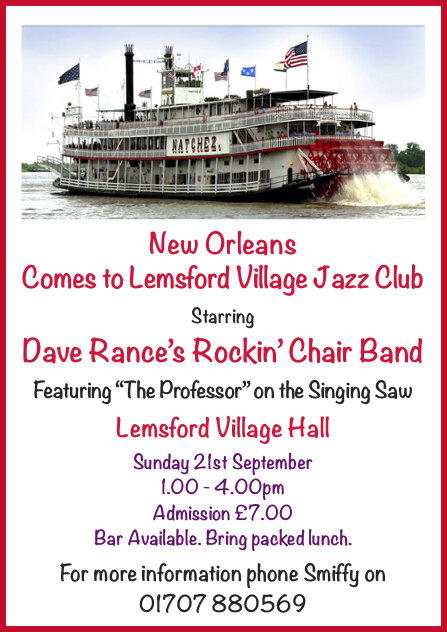 Swanee River: Best viewed in HD on YouTube:
(Photos & YouTubes © Peter M Butler, Jazz&Jazz, barring Lemsford Village Hall and John Percival)
Please follow and like us: