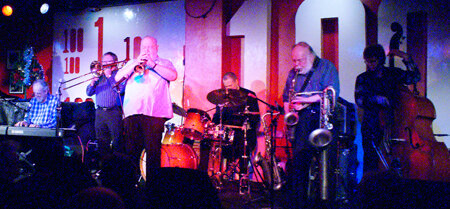 "The Old Green River Band is one of the most exciting bands I've heard in ages. Their music could be described as 'New Orleans meets RnB' … I think few other bands come closer to the true spirit of New Orleans." (Peter Kings, psk Sound)
Add to that the spirit of Christmas and no better band could have starred at The 100 Club, Oxford Street, London, on Thursday, 13th December. Jazz fans turned out in force for this rare visit by the Manchester based band. And true to form Martin Bennett and his merry men raised the cellar roof with their mix of jazz and blues and their very own inimitable dynamism.
So successful was the session that it was sad to hear promoter Tony Leppard warn fans that should they not keep up such turns outs for forthcoming gigs, Thursday lunchtime 100 Club Jazz may not last out 2013.
So fans, don't let Tony and Kay Leppard down. Don't let Jazz at the 100 Club fade away. Why? Because Jazz gave birth to The 100 Club in the hey days of the great Ken Colyer.
A final word for an up and coming Jazz Club. Martin Bennett and his Old Green River Band will be star performers at Welwyn Garden City's Peartree Jazz Club on Monday, 21st January. So London Jazzers, don't miss out. The Peartree Club is just 16 miles away.
(Photos © Peter M Butler, Jazz&Jazz)
Please follow and like us: